DRAGON AGE THE CALLING EBOOK FREE DOWNLOAD
Dragon Age: The Calling (Dragon Age series) by David Gaider. Read online, or download in DRM-free EPUB format. Dragon Age: The Calling by David Gaider is another thrilling prequel to Dragon Age: Origins, the hit role-playing video game from award-winning developer. Read "Dragon Age: The Calling" by David Gaider with Rakuten Kobo. Dragon Age Volume 2: Those Who Speak ebook by David Gaider,Various . Books; ISBN: ; Language: English; Download options: EPUB 2 (DRM- Free).
| | |
| --- | --- |
| Author: | EARLINE WEATHERHEAD |
| Language: | English, Spanish, Dutch |
| Country: | Netherlands |
| Genre: | Personal Growth |
| Pages: | 135 |
| Published (Last): | 31.01.2016 |
| ISBN: | 242-5-53191-731-1 |
| ePub File Size: | 21.48 MB |
| PDF File Size: | 12.64 MB |
| Distribution: | Free* [*Free Regsitration Required] |
| Downloads: | 45569 |
| Uploaded by: | DARCEY |
This is another thrilling prequel to "Dragon Age: Origins", the hit David Gaider epub free, The Calling David Gaider ebook free download. Dragon Age: The Calling. T H E C A L L I N G tor books by david gaider Dragon Age: The Stolen Throne Dragon Age: The Calling david gaider. Dragon Age has 27 entries in the series. Age--Last Flight. Dragon Age (Series). Liane Merciel Author (). cover image of Dragon Age--The Masked Empire.
Dragon Age: Origins , the hit role-playing video game from award-winning developer BioWare! After two hundred years of exile, King Maric has allowed the legendary Grey Wardens to finally return to Ferelden. When they come, however, they bring dire news: The Masked Empire.
Which place in the rich, complex world of Thedas would be worse for the act of sexual congress than the Deep Roads? I love you so much, Elf Boy, but pls. There is absolutely no worse place to do the darn thing than the goddamn Deep Roads. If you answered d then you are correct! The Deep Roads-full of rampaging darkspawn, Broodmothers, Blight spume, giant spider infestations, weird little dinosaur thingies, and the crumbling, bone-filled remains of a once-marvelous civilization- are the most oppressively unpleasant, dangerous and unsexy place in Thedas.
Please speculate as to why the Gaidster has, in the course of 2 novels, written 3 discrete couples getting down to business in the Deep Roads. I don't have the answer to this one, and it keeps me up at night. The correct answer is The Bone Pit. Aug 02, Charlotte rated it liked it Shelves: The second installment in the Dragon Age book series was a good read, but it wasn't spectacular or satisfying. For me, it lacked a really important element to a book or story which was character development.
Don't get me wrong, the few lead characters of the book had a decent backstory and element to them.
But due to some of the other character's having bad development, I could tell that they were going to meet a untimely and bad fate. For some reason, it reminded me of playing Dragon Age Origin The second installment in the Dragon Age book series was a good read, but it wasn't spectacular or satisfying.
For some reason, it reminded me of playing Dragon Age Origins for the first time which this book is prequel to , and having a party of NPCs at the beginning of the game that lacked or had little motive, ambition or emotion shown, making me point to the screen and go "He's gonna die, he's a bland NPC he has to! Where these characters were lacking, the main characters Duncan, King Maric, Fiona and Genevieve were quite interesting. Each had a strong motive, although some characters you don't really find out much until you get about halfway or so through the book.
A couple of the character arcs were explored by using the Fade as a way to see character's backstories, but for me it has been a little overused after playing all the games and reading this book, dammit. I must say I do prefer the Fade in the game way more than I do in this book. It just felt so rushed, whereas in the game, I could take my time and explore the mysterious Spirit World in wonder.
Some of the really interesting elements in the book involved The Architect. I should've expected it, as the book is called "The Calling", but alas I did not. I absolutely loved the follow up expansion to Dragon Age: I would only recommend this book for fans of the series, and for people who have played both Origins and Awakenings, as the world and lore isn't explained to a massive extent in this book. People who haven't played the Dragon Age games will be so confused by this book, but I believe that is the whole point.
Sep 22, Ainoa rated it really liked it Shelves: Today in Adventure Time: Thedas Edition, King Maric is an adorable idiot, again. I have to take off my hat for David Gaider's writing. I really have to.
And I hate him, because he has the ability of making me love characters that I know for certain that are not going to have a good ending.
In this particular instalment we follow the adventures of Maric, who joins a group of Grey Wardens heading to the Deep Roads in the search for the brother of the Warden-Commander. It sounds like a mess, and it Today in Adventure Time: It sounds like a mess, and it is a mess. Most of the book takes place in the Deep Roads and dwarven tunnels, and the oppressive atmosphere of the environment is as much as a character as the rest of the ensemble.
In fact, the characters are probably what makes this book stand out even more than The Silent Throne. Duncan, Fiona, even and old baddie that you might recognise if you played the DLC for Origins, this book is filled with winks to the original game and also with plenty of feels.
And the couple of scenes that Maric and Loghain share are pure gold. Srsly, I would play a whole game with those two as the only companions. If you liked Origins and want to know more about those characters, please pick up this book.
You will not be disappointed, it adds a lot of backstory to our beloved Duncan and another fan-favourite character which I will not mention because spoilers. Apr 15, Ty Wilson rated it really liked it Shelves: My fascination with all things Dragon Age continues with this novel.
Since finishing Inquisition I've been catching up on the prequel books and graphic novels I skipped earlier, and this one was very good. I liked it even more than The Stolen Throne. I just found the story more compelling. King Maric joining a party of Grey Wardens on a quest to save one of their own while at the same time keeping a new blight from beginning. Maric is still a great character, just as he was in the earlier novel, My fascination with all things Dragon Age continues with this novel.
Maric is still a great character, just as he was in the earlier novel, and this time we've added some nice new characters to the story. I particularly enjoyed Duncan, a rogue Warden who still dabbles in his old profession. Fiona and Kell are welcome additions as well. This book gives us a lot of new insight into both the Grey Wardens and Darkspawn.
I'm definitely going to continue with the series Aug 08, Kaitlynn rated it it was ok Shelves: Man, I went back and forth on this.
Dragon Age The Stolen Throne - PDF Free Download
On the one hand, its poorly-done tie-in genre fiction. It isn't going to be 5-star material. On the other hand, it is so much better than the first book. The characters in this are far more complex than what we see in Stolen Throne. The action is more interesting and only a small portion of the text. The Calling looks at more interesting places, organizations, and problems than Stolen Throne does.
But it is what it is. The prose is still simple and redundant Man, I went back and forth on this. The prose is still simple and redundant. If you show me a character is injured, limping, and grimacing, you do not need to go further and tell me they are in pain. There were swaths of story that felt like filler such as the Fade section. Dec 20, Kelly rated it it was amazing Shelves: As a fan of this world, I found this book utterly compelling. Ferelden is threatened by the possibility of a blight and we find out more about what the witch of the wilds tells Maric in the first novel, The Stolen Throne.
In addition, we gain more insight into Loghain's manic obsession with Orlais not that he didn't have reason before We learn about a particular baby that has special meaning for players of the game and most importantly, we As a fan of this world, I found this book utterly compelling.
We learn about a particular baby that has special meaning for players of the game and most importantly, we learn a lot about the Grey Wardens. However, the tale continued in this book is far from finished. I hope we see at least one, if not two more prequels before the events of the game, Dragon Age Origins unfold.
Apr 12, Samhain rated it liked it. Some fight scenes were a bit too long for my taste, but this is a very good DA book. All the characters are more than what meets the eye, and it's quite easy to be invested in their respective arcs.
Another interesting bit was to be at the heart of a Grey Wa Some fight scenes were a bit too long for my taste, but this is a very good DA book. Another interesting bit was to be at the heart of a Grey Wardens team whose members don't have the same opinion about the order's mission. In Origins, there were only two of them and the urgency made for little moral debates.
Here, they know something bad might happen, but they don't know when or how, and it leaves a lot of room for the main problem of the order to surface. Claiming that they do whatever is necessary to fight Blights is one thing ; agreeing on what exactly is necessary is another. After reading this, it's no wonder Weishaupt has gone off the radar after Trespasser. In fact, it's a miracle the Wardens managed to survive this long without different, opposing groups appearing in their ranks.
Another question this raises for me is, could Bioware be following Elantris' main plotpoint? I might be entirely wrong, I'm honestly not sure if the timeline works here, but Bregan's transformation reminded me of Raoden's. They were inspired by A Song of Ice and Fire way before it became wildly popular, so I wouldn't be surprised if other fantasy works that are less mainstream than, say, LOTR have played a part in the building of Thedas' lore.
Could the Veil put a stop to an otherwise smooth transformation process? Is it one of the reason more than the whole 'we wanted to be Gods and, surprise! I used to think the Titans were the ones calling to them since lyrium's their blood and it's said to 'sing' , but I'm starting to wonder if they aren't listening to something beyond the Veil.
And since the Old Gods are quite likely some of the Forgotten Ones, it would make sense they're drawn to them in the process. That theory is a bit extreme, and it might not even work if Elantris was published after DA: But a book which makes you think is usually a good book, so here's to The Calling giving me headaches!
Jan 15, Reading Lee rated it really liked it. Well of course I'm going to read The Calling Duncan is in it, what's not to love? I miss my in-game father figure. In all seriousness, it's a good book, perhaps better than the first. As always, David Gaider's writing is an easy read - I finished within 24 hours.
The book takes place several years after the events of Stolen Throne. It's cool to see how the characters have developed and the lives they are living except Rowan, she isn't on the alive side. Maric is a bumbling idiot as always, but Well of course I'm going to read The Calling Duncan is in it, what's not to love? Maric is a bumbling idiot as always, but you can see he has matured.
I particularly like the fact that you can see likable Stolen Throne Loghain, slowly transitioning into antagonistic Origins Loghain. There were some questions left unanswered, and some backstories that were never addressed in the games.
This book satisfies my lore cravings. I loved the stoic Duncan from Origins, but man, it was great to see the rambunctious lad he was. Maric is still Maric, although he has matured mostly. The other characters introduced in this book are compelling.
A hunter and his loyal fluffy dog, a mute dwarf chick, and some gay Orlesians, and an extra bitter but likable Elven Mage; what's not to love? I won't spoil the plot, but there were some things that seemed forced, or out of character looking at you mute dwarf chick. The ending felt somewhat rushed. Overall, nothing bothered me much. Duncan, Fiona and Maric's relationships with one another was nicely done. Their opinions of one another changed, for the better.
Overall I really liked this book, maybe even loved it. Although it doesn't cover THAT much backstory and lore, it gives enough. Characters were enjoyable, but others confused me with their out-of-character choices. So if you are a Dragon Age fan, I recommend this book.
That Epilogue tho ; View 1 comment. Aug 12, Atsu rated it really liked it Shelves: The Calling contains the most gratuitous and improbable dragon fight I have ever seen, that's 4 stars in my book. Sorry I'll write a serious review later, but overall I've found it much better than The Stolen Throne, especially if you like character studies, because there's not a lot happening here.
But that dragon, though. Sep 14, Krista D. Too much fighting, not enough deep roads banging. Oct 17, Laura rated it it was amazing Shelves: Apr 14, Amanda rated it did not like it Recommends it for: This review has been hidden because it contains spoilers. To view it, click here. While this novel was certainly an improvement from The Stolen Throne, many of the elements I found distasteful and obnoxious in the first book recur in Gaider's second DA novel.
It amazes me how often Gaider repeats himself, frequently word for word, throughout the novel; his descriptions and evaluations are redundant, as if he and his editor were aiming for most words printed rather than most effective language.
On one hand, the characters themselves were much more interesting, although they on While this novel was certainly an improvement from The Stolen Throne, many of the elements I found distasteful and obnoxious in the first book recur in Gaider's second DA novel.
On one hand, the characters themselves were much more interesting, although they once again lack depth and I found most of their motives either unbelievable or conflicting to their own characterization. I believe I got farther along in this novel before growing completely bored I had about 90 pages left when boredom settled in , but once again nothing much happened, at least not in a coherent way, in terms of plot or character development.
A few of my biggest frustrations: Gaider works so hard to make it clear that the Grey Wardens don't like their Commander, and yet there's no evidence to explain why they choose to follow her anyway.
Their motivations for following her commands and putting up with her icy personality seem only to go as far as "because she's the Commander so she gets to decide. It's clear to the reader that her Warden's find her distasteful, specifically for treating people like objects, tools be used and discarded, not as actual lives worth valuing. So, why do they follow her? What has she done despite her decisions to earn their trust, their loyalty? Outside of hefting a two-handed sword well, I didn't get a clear answer.
In addition, I found the moment in the novel when Maric and the Wardens get trapped in the Fade by a it sounded like a pride demon particularly tedious and lackluster.
Firstly, it couldn't get any less interesting to read the same plot six times in a row with only character names and scenery changes. I think Gaider was hoping if the characters all witnessed the loss of each others' loved ones, maybe it would be enough to band them together and deepen our love for them as readers? Well, it failed. Fiona's nightmare had the most potential for engrossing the reader, but it was so predictable and simultaneously so shallow, I found myself caring for the characters less than I had before opening the book's cover.
Secondly, this moment in the novel took so long and added absolutely nothing to the overall novel; it didn't contribute to or re-enforce characterization in a clever way turned out to be quite shallow, obvious and at best, redundant , it didn't contribute to the setting of the novel the experience was completely out of context and I imagine anyone new to the world of Thedas would have a "WTF, why" moment , nor did it contribute to the plot it deviated from it in the most horribly way.
Thirdly, if you've played Origins, this entire moment in the Fade exactly mirrors your character's own journey, only in far less interesting detail- wake up in the Fade, realize you're dreaming and that you don't like your dream enough to keep it, wander around other dreams to rescue your companions, fight the sloth in the game, pride in the book demon in order to escape. I'll continue to read the rest of the Dragon Age novels not because I think they're well written or make any unique contributions to the fantasy genre, but because I enjoy the game so much and I'll take any hints I can find about how the lore in the game developed and where it may go in future games.
Having read this book, I can say the only potentially shocking "secret truth" revealed was so poorly executed and vague, I'm not sure if it is actually true: Don't bother reading this book, whether you like DA or not, and certainly if you enjoy fantasy and action novels - go read The Riddlemaster of Hed instead.
Thank goodness I borrowed this novel. Feb 19, kylerooo rated it really liked it. I really didn't like The Stolen Throne, mainly because of Maric but I found him much more likeable in this book. Still not a good person but more likeable, maybe because he's more grown up in this idk. The best part of this book was, hands down, young Duncan. I've always liked what little we got to know of our Grey Warden dad in the games, so getting to know him better and learn of his past was very nice!
The other Wardens are also really interesting. Fiona was super cute and deserved better tha I really didn't like The Stolen Throne, mainly because of Maric but I found him much more likeable in this book.
Fiona was super cute and deserved better than what she got. Also I have a better gaydar than Maric. If you've played Dragon Age Origins you should definitely give this book a chance! Oct 25, Lexine Higgins rated it really liked it Shelves: Maric is called upon to save Ferelden once again, but instead of an Orlesian threat, it's darkspawn. He must travel down into the Deep Roads and back into his past in order to stop a rogue grey warden who has met his calling, with the help of a few fami "In your blood lies the key," it whispered.
He must travel down into the Deep Roads and back into his past in order to stop a rogue grey warden who has met his calling, with the help of a few familiar faces to those who have played any of the Dragon Age games.
This novel is another prequel set fourteen years after the events of The Stolen Throne, providing insight into many characters' pasts. If you're a hardcore dragon age fan who loves the Dragon Age Universe and its characters, you need to read this book. Like, right now. If you've played Inquisition and wondered who Grand Enchanter Fiona is?
Look no further. That guy, Duncan, from the Origins prologue? Curious about his past? Right here. Ever wondered what happened to Maric after he took the Ferelden throne back from the Orlesians in Stolen Throne? Or who the Architect is? This book tells all. I feel like this was an informational book as well as a story. I learned so much about darkspawn, the taint, the dwarves, and Grey Wardens. Telling us at the last minute like it's need-to-know information!
You see how much they've lost and understand why, out of all the other races, they have the most respect for the Grey Wardens, because of their constant fight with the darkspawn that destroyed the Dwarven empire. I had mixed emotions seeing familiar faces. It was interesting to see how Maric has changed from the youthful boy to an older king and the issues he faces now.
It's clear that he has impostor syndrome, not feeling that he earned Ferelden's crown similiar to how Harry Potter doesn't feel like he would be a good DADA teacher in Order of the Phoenix , getting by on luck and the skill of those around him. Here, Maric has lost a lot of his youthfulness under the pressure of the crown, but it does make an appearance every so often.
He's learnt from his mistakes, and his friendship with Duncan was lovely, as he becomes a sort of mentor figure in a way, telling him not to be ashamed at himself for past actions. Speaking of Duncan If you've played Dragon Age Origins you'll know his fate, which makes it so much sadder to read about him in his youth.
We get so little time with him in Origins that I never paid too much attention to him, but learning about his past and how he was a cheeky rogue with a tragic past makes me want to replay Origins just to spend the prologue with him! I really wanted to know her background as we see her in Dragon Age Inquisition, but not much is known about her. She's a pretty cool character! As with all Dragon Age characters, she too has a tragic past that makes her a bit defensive around Maric because he's a human king, whereas she is an elf who had a typical non-dalish elven upbringing.
There were lots of emotions swirling through me as I read this book. Anger, nostalgia, heartbreak, happiness. Some characters I'm looking at you, Genevieve! Lots of feels from the Stolen Throne too. P Rowan! Also, Maric, what is it with you, women, and the Deep Roads? There were a few scenes that reminded me of Origins, like the mage tower quest and the fade from Inquisition with Divine Justinia.
And there were plenty of Easter eggs from the Stolen Throne and the games. Something Loghain says made me pause too. What he does in Origins really made sense after that. The main antagonist from this story, The Architect, was really interesting to read about. In Origins: Awakening, we only see the talking darkspawn from a villainous point of view.
But in this book we see him in a different light. It's hard to believe him, knowing what he is. He seems to have good intentions, but can he be trusted? I'm not sure. It will definitely impact my in-game choices in Origins: Awakening though. Unfortunately, this book just didn't give me the same feeling as Stolen Throne did. I wasn't as enthralled with this book, hence the A few fight scenes tended to go on for a bit. One of the fight scenes I really didn't think needed to be put in because it felt like a filler moment, but they were pretty epic.
Expanding on my above point, there were two story lines that wove into one. I felt like the second story line had more to it. You learn more from Bregan, about the darkspawn, the taint, and how it spreads through a Grey Warden. I learnt so much about the corruption and what Wardens become after they hear their Calling, things they don't tell you in Origins because you're only a newbie to the Order. Overall, this is definitely a required read if you're a big DA fan like me.
It will make you laugh and cry, and make you want to play the games all over again so you can pick up on the lore and dialogue that refers back to this story. Also, if you could tell me who's supposed to be on the cover of this book, please let me know! I've been trying to figure it out but I just can't identify them! Review also on my blog: Oct 04, Opie rated it did not like it Shelves: Origins and it does improve on some things where the previous Dragon Age novel, The Stolen Throne, failed, while continuing futility in other aspects.
Don't let my rating fool you. I didn't like this book, but there were elements of it I did like. The Grey Wardens are a colorful lot led by an emotionally distraught woman, Genevieve and include among others an elf-mage Fiona, a deaf-mute dwarf Utha, and the newest recruit, Duncan fans of the game will remember Duncan from his role in the opening chapters of Origins.
Also written by David Gaider, the flaws in his writing style are in full swing. He leaves little to the imagination, not trusting his readers to infer even the most obvious of facts.
A brief example to explain. In the middle of the book, the heroes confront a dragon. During the fight, the dragon takes an arrow in the eye and thrashes about, slamming its head into the cavern wall.
Gaider follows with not an exact quote that the dragon was obviously in pain. An entire novel of that. Still, it is an improvement over the previous novel in some aspects. The characters are more interesting and the story is coherent, though I didn't particularly enjoy either. King Maric is still dull and the new Grey Wardens aren't much better, the romance Maric and the mage Fiona feels forced, and some of the interesting characters are shunted to the side despite intriguing setups how exactly does a deaf, mute dwarf get along battling the forces of evil?
The overall story is predictable, especially if you've played the game. Overall, although I rated this book 1 star, if you are a fan of Dragon Age and can tolerate David Gaider's writing I couldn't , you may find something to like. Feb 01, Vixie rated it it was amazing Shelves: The story itself focuses on a collection of characters, the Grey Wardens and King Maric. Those who know the Dragon Age Series will recognise Duncan from Origins and Fiona from Inquisition , yes the pair knew each other, were comrades in arms during The Calling.
What made the story so great was the char The Calling was a superb follow up to the previous story The Stolen Throne and a superb precursor to Dragon Age: What made the story so great was the character development the story provided. Origins I hated Duncan because my Dalish character would never voluntarily leave his clan. Duncan was the evil Shemlen who took my Dalish Elf away from his clan.
In fact, he is forcefully conscripted like he conscripts my character. A street kid, who ends up committing murder to keep what he stole. Another incredible set of characters are the pair, Julien and Nicolas. To be honest I had not expected the twist at the end, to discover their friendship went much deeper than originally expected. My warden tends to romance Zevran, What can I say? Guinevere was an interesting character. A stubborn woman who yielded to no one and demanded complete obedience, but what drove her was not just duty as she tried to make it appear, but love for her brother and her love for the people she is sworn to defend.
One type of love leads her to trouble and the other frees her. She is a stern character easy to hate, but she redeems herself at the end, proving herself to be a character of honour. Kell was also an interesting character. Kell was a man of little words but of great intelligence and his love for his dog, Hafter, endeared his character to me.
A strong, but silent type character, it is easy to overlook him at times, but by the end he is an integral character who proves his worth. And Spoiler here when he makes his final stand with his faithful companion I was devastated by his loss. An amazing if overlooked character. And Utha…. Well I suspect I have seen her before.
I never connected her game character with her written character in The Calling until the very end.
Stupid I know since I played Awakening before I even read the book. I found her character an interesting one, she was compassionate at times but strong, she was a support to her friends and a deadly foe to her enemies.
A shame that no Grey Warden ever have a happy ending. Maric, forced to be the hero King when his mother died before his eyes. The Prince who led the rebellion against the foreign Orlesian King, who loved an Elven assassin and killed her for her betrayal. Who married his betrothed and loved her dearly, but suspected and perhaps knew she only loved Loghain.
Or perhaps this is just wishful thinking on my part. He sees that they are needed but also dangerous in their own right. He sees the best of them, and the worst of them, and perhaps in doing so see the best and worst of himself. He is furious that Maric considers leaving his throne and his son to go back to the Deep Roads.
Offers his blade to let the man commit suicide rather than dying in the Deep Roads. And when he finds Maric at the end he is both furious and yet relieved.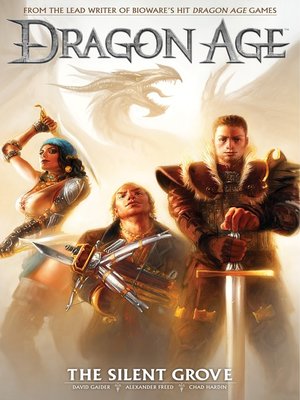 I do not know what guides the man in the game, perhaps some of his supporters are right and he abandoned Cailan to protect the people knowing there would be no victory only death and so retreated to save as many lives as he could.
I loved this book. The Lady of the Lake. Andrzej Sapkowski. Mass Effect: Drew Karpyshyn. Sword of Destiny. William C. Dragon Age. Orson Scott Card. Artificial Condition. Martha Wells. Baptism of Fire. The Complete Novels 4-Book Bundle. Star Wars: Life Debt: Aftermath Star Wars.
Chuck Wendig. Dead Space: Brian Evenson. The Tower of Swallows. The Dawning of Power Trilogy. Brian Rathbone. World of Warcraft: Jaina Proudmoore: Tides of War. Christie Golden. Lord of Souls: An Elder Scrolls Novel. Greg Keyes. War Crimes. Night of the Hunter. The Fall of Reach.
Eric Nylund.
Get A Copy
Guild Wars: Ghosts of Ascalon. Matt Forbeck.
Deus Ex. James Swallow. A Dance of Blades. David Dalglish. Greg Bear. Secret of the Dragon. Margaret Weis. Storm Surge. Gail Z. The Time of Contempt. The Infernal City: All Systems Red. Rule of Two: Star Wars Legends Darth Bane. Knight Errant: Star Wars Legends. John Jackson Miller. Edge of Destiny. Robert King. First Strike. Path of Destruction: Gears of War: Anvil Gate. Karen Traviss. The Dwarven Prince.
Jonathan Moeller. Dark Haven. Rogue Protocol. Paul S. Dark Lady's Chosen. Lords of the Sith: Star Wars. The False King Frostborn Bloodline Star Wars. Claudia Gray. The Slab. Into the Void: Star Wars Legends Dawn of the Jedi.
Tim Lebbon. The Spectral Blaze.
Dragon Age: The Calling
Richard Lee Byers. The Last Threshold. The Blood King. Exit Strategy. Blood of Elves. Choices of One: Timothy Zahn.